4th June 2016
My first MAC purchase.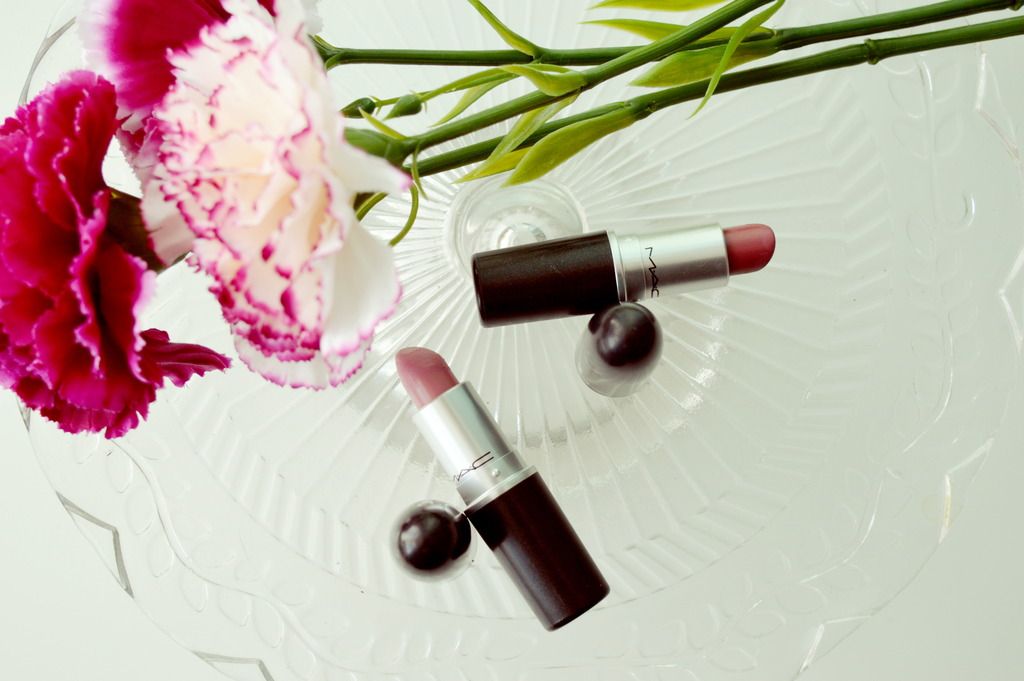 | Photographs and words by me ; (Left) Pink Plaid & (Right) Mehr both by MAC |
So I sort of bought these a few months ago however, I am an awful blogger and never got round to photographing them until now! These are my first two purchases from MAC and I'm sure you will all be able to agree that choosing a Mac lipstick is one of the hardest choices in the world! They are all so perfect and there is a shade for every person out there, but it will take you a good hour of swatching and then debating which one is better until you reach a decision. And then you will change your mind 10 times again until your boyfriend forces you to the counter! It's all first world nonsense of course, but I enjoy buying a good lipstick that I know I will feel good wearing and MAC was definitely the place to go.
Now, I am usually a bit of a red lipstick kind of girl, but seeing as I have been going lighter with my hair and with Spring slowly transitioning into summer I felt that it was time for some softer shades. With that in mind, I found myself drawn to pretty pinks - from pastels to floral tones and even some deep magenta. Of course there was the obligatory Russian Red swatch and I can't say that I wasn't tempted, however I am pleased with my final choice. I decided to settle with Pink Plaid which is a bit of a dusty pastel pink tone and Mehr which is a rose pink with purple undertones. The latter is definitely a bit of a nod to the 90s kind of shade and makes your lips look fuller and without much of a need for liner. I would also say that it is my favourite out of the two as it lasts the longest and the consistency is much thicker and creamier, with a perfect matte finish. Pink Plaid is still a good shade if you want something a bit prettier and is the perfect accompaniment to more neutral make up looks.
I am extremely impressed with the quality of MAC make up and I can see why it is so hyped all over the internet, the products are good and the packaging is pretty badass! Basically, I will definitely be purchasing more MAC products in the future! My only problem is that at over £15 a lipstick it may take me awhile to build up my collection, but when something is this good it is definitely worth the investment! If you have any suggestions of other MAC products or lipstick shades you think I should try then why not comment below?