7th June 2015
My Current Favourite Perfumes.
| Photographs and words by me ; (left to right) Coco Mademoiselle by Chanel & Si by Giorgio Armani |
I am very much drawn to beautiful scents and perfumes and I base a lot of assumptions and judgement around how things smell. That might sound strange when you read it and it certainly does when I say it out loud, but I am confident people can agree that if something doesn't smell good then you just aren't going near it. I am a huge believer that we choose even our friends and our partners based on their scent as it is one the most natural instincts amongst all animals and we certainly all have our preferences. Attraction isn't all about looks you know. The same can be said for perfumes as well, it might have a pretty bottle but if it smells like the 40 year old bottle of some potent flowery concoction that all grandmothers seem to have on their dressing table, then I am definitely not buying it. No amount of merchandising can save that for me and honestly I often find that the plainer the bottle, the better the perfume. As I previously said however, it is down to personal preference and so I present to you my current favourite perfumes (and please feel free to disagree!).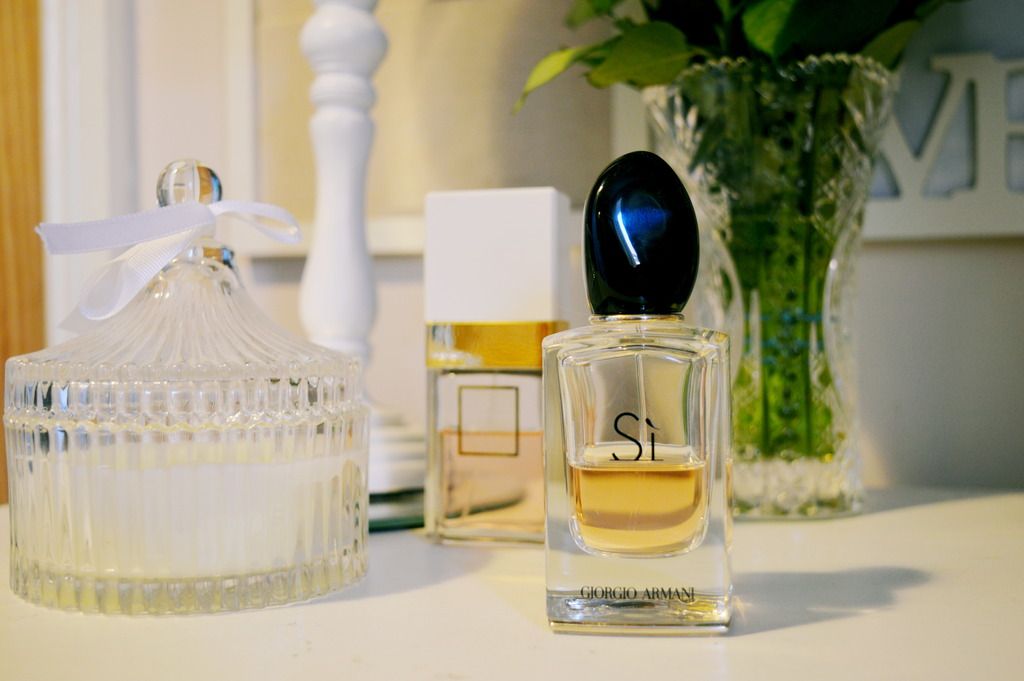 Sì by Girogio Armani 50ml £67.00
I received this perfume from my brother and sister last Christmas, as my sister had seen it on my Christmas wish list post and picked it up whilst doing her shopping. The pros of being a blogger, eh?! I had never owned a Giorgio Armani perfume and after being inundated with adverts for it every time I watched TV I felt like I had to seek it out and smell it. It is a very sophisticated scent and you could probably wear it for both day and night, as I often do. In fact I wear it most days at the moment as I really enjoy the little whiffs of scent when I'm sat at my desk and I move a stray lock of hair out of my face. It is one of their newer perfumes and pairs notes of citrus and florals on top of a musky base. It's a bit of an all rounder considering it's ingredients - which includes mandarin oil, jasmine, amber and patchouli oil - so I wouldn't be surprised if it's popular with a lot of people. The Eau de Parfum lasts all day as well and rather than fade it just gets better, leaving you smelling gorgeously fresh even after a long day of work.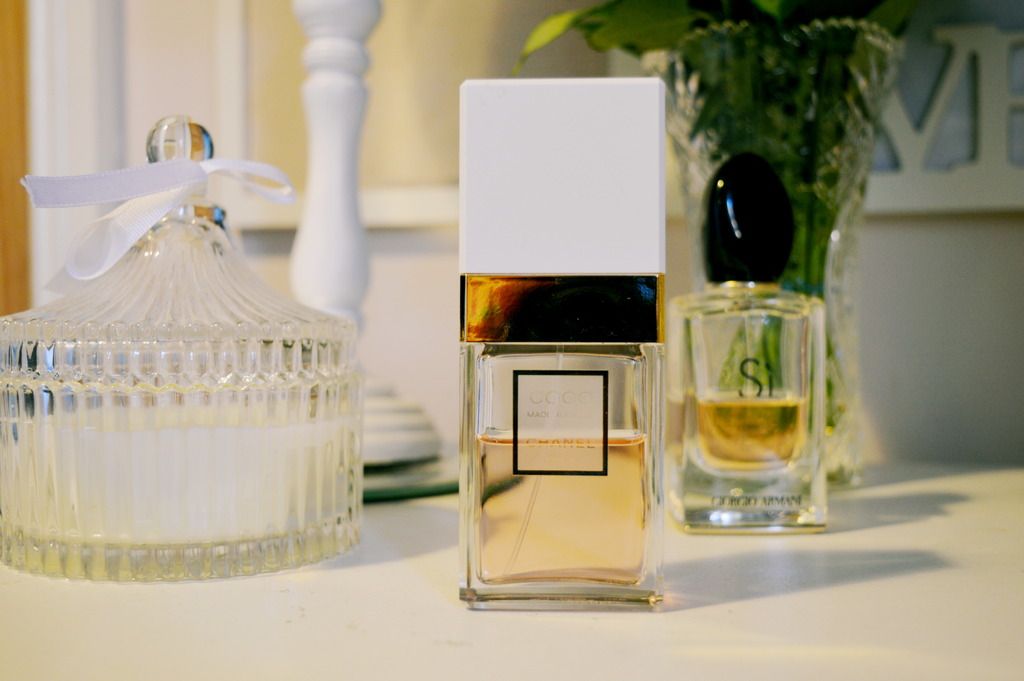 Coco Mademoiselle by Chanel 35ml £48.50
Ah, mon parfum préféré... This was a gift from someone a few years back that was once quite special to me, so when I received this perfume it instantly became something special and even more so because of the story behind why I wanted it. You see, my nan passed away in 2009 and she was one of the most important and influential people in my life. She was also one of the most glamorous and fashionable people I knew as well and she never went anywhere without high heels and lipstick. When she passed away it hit me very hard and I longed for something that could keep her close to me and as it turns out that something was a bottle of perfume. Not only do scents attract us to things, they also help us to remember and when I think back on my nan I remember how lovely and elegant and homely she smelt, which was in part down to her perfume. And what perfume was that? Ta dah, you guessed it! Coco Mademoiselle. I loved it so much and I remember her spritzing my sister and I with it when we went round her house as young girls. I really wanted a bottle of it and the said someone at the start of this paragraph knew that and bought it for me. I hope they know that to do this day I am immensely grateful for that. It's so special to me though that I rarely use it and mostly saved it for occasions rather than for use as a daily perfume. More recently however I have found myself taking it off of the shelf and wearing it day to day. Anyone that has ever owned a Chanel perfume can tell you that it makes you feel instantly elegant, Coco Mademoiselle is much like Sì, but a deeper smell with notes of Jasmine, Bergamot and grapefruit to name a few. It is certainly a scent that transforms once it settles on your skin as well, turning into something personal and one of a kind. Out of all the Chanel perfumes, I find this one to be the most versatile in it's appeal and one that suits all ages and preferences. I highly suggest you give it a try.
You can buy the perfumes from Boots, here and here.
What are your favourite scents at the moment, why not comment below?