28th June 2015
Back to Nature.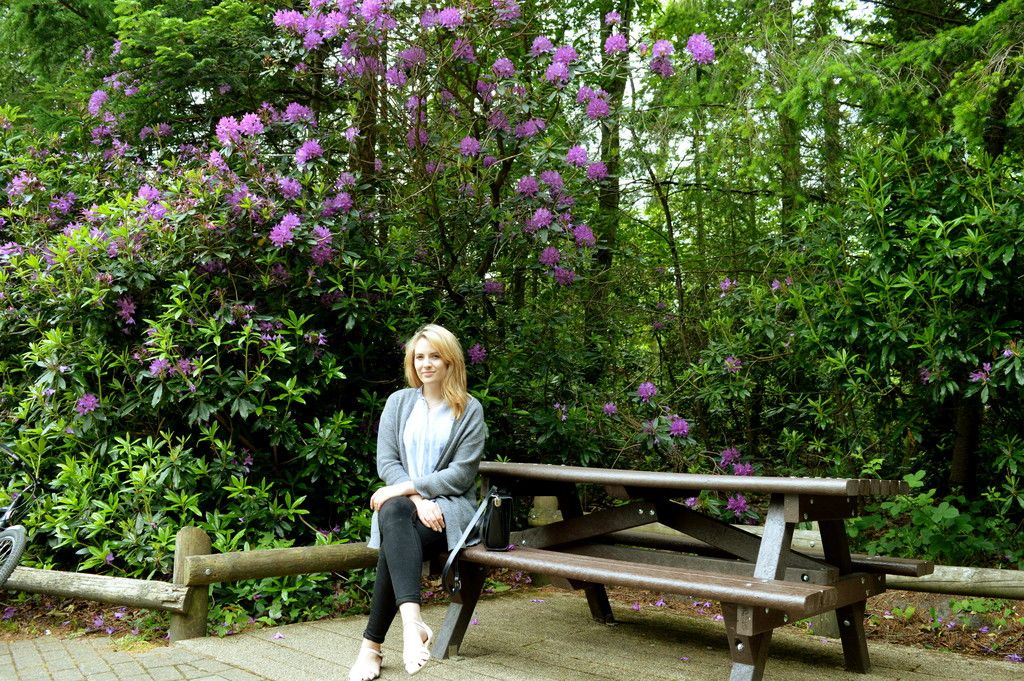 Photographs by Abi Brown ; Edits and Words by me
Cardigan - Primark ; Shirt - Zara ; Jeans - Dorothy Perkins ; Sandals - Primark
Amongst all the excitement, drinking and activities during my visit to Center Parcs, I found time to take some outfit pictures for you all. Whilst out with Bella and Abi, we found this beautiful area near the pancake house where these gorgeous purple flowers were blooming and Abi offered to take some shots. Center Parcs is a difficult place to plan outfits for, unless you are the sporty outdoorsy type of person that is comfortable running around in casual clothes and there is nothing wrong with that at all! If you are a fashion blogger who lives to provide their readers with chic outfits for all occasions, then it may prove to be a bit of a challenge. I'll admit that I wore joggers on the Saturday as we went canoeing, but when it came to bike rides on the Sunday I wanted to look good but also dress appropriately for what we were doing. I bought this shirt in Zara with a gift card that I recieved for Christmas, it's lightweight and airy which was great for keeping me cool whilst riding. The sandals are also new and I picked them up in Primark ready for the summer, I have been wearing them to death recently as I love them so much and you can also buy them in black! Unfortunately the cardigan is old, so you won't be able to get it but a wide arm cardigan is great for keeping you warm when stopping off somewhere and dresses up a casual outfit. I tend to buy grey knitwear as I find it breaks up the harshness of my mostly monochrome wardrobe and grey tends to work well with most colours as well. I'm hoping to inject more colour into my summer wardrobe and start to play with more prints so we will see what happens!