6th May 2015
Witchy Vibes in Canterbury.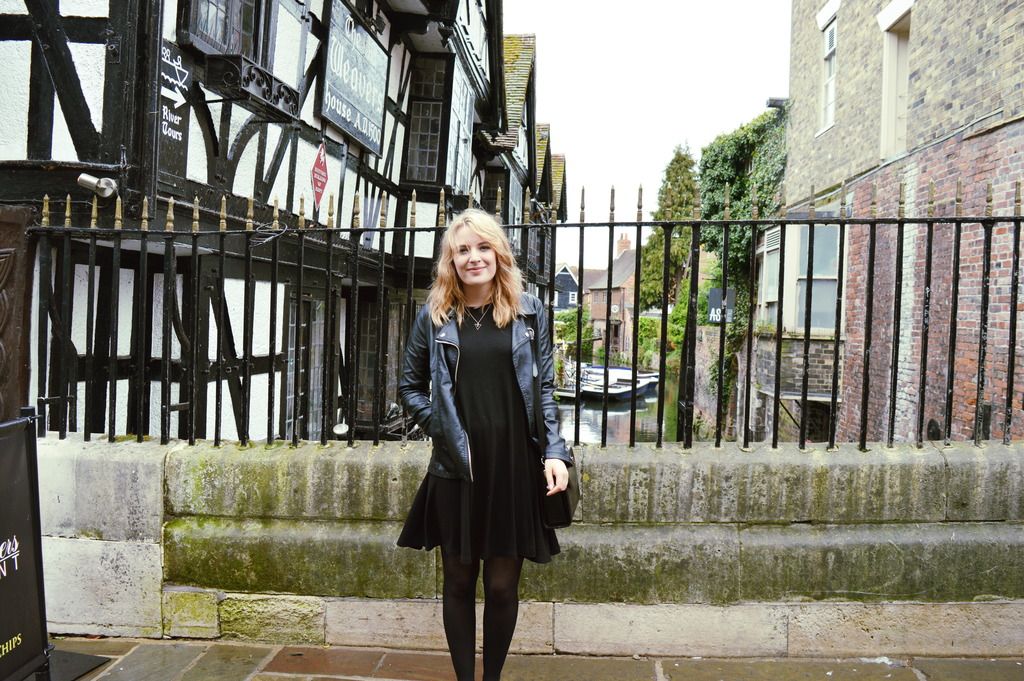 Photographs by B Horton & words by Me
Dress - ASOS (here)
Jacket - TK Maxx
Bag - Vintage
I undertook the task of driving my little sister to Canterbury last week for an open day at Canterbury Christchurch University, which is a whopping 3 hour drive from where I live in Hampshire. We started our brief 5 hour visit in Wagamamas for some much needed fuel and then headed on over to the campus, which is lovely by the way and after we had finished there we ventured into the city center. Now, I have been to Canterbury before in fact it was where my boyfriend and I first got together as he was studying there so, I sort of knew my way around. We trawled around alleyways and high streets, dipping into various shops and peering through boutique windows, all the while taking in the very other worldly atmosphere of the whole city. I've always thought that the architecture and cobbled streets reminded me of some fantasy film, something that involved pirates or witches and there is definitely a deep sense of history within the maze of buildings. With that in mind, I thought that I would share with you some outfit pictures from the day. They aren't my best pictures and please excuse the shaggy mop that I call my hair, but I really do like this outfit as it is simple yet powerful. I am a big supporter of black on black outfits and monochromatic dressing and when you've early mornings and long days ahead why not dress in all black? It's simple, chic and if you really want to you can add accessories to dress it up. I definitely felt an added sense of witchiness to my outfit due to being in the city, which I really loved. If you ever get a chance to visit you should definitely go, if not to view a fine heritage city then at least go for the shopping and dining, as you won't be disappointed!