18th May 2015
Anniversary Waffles.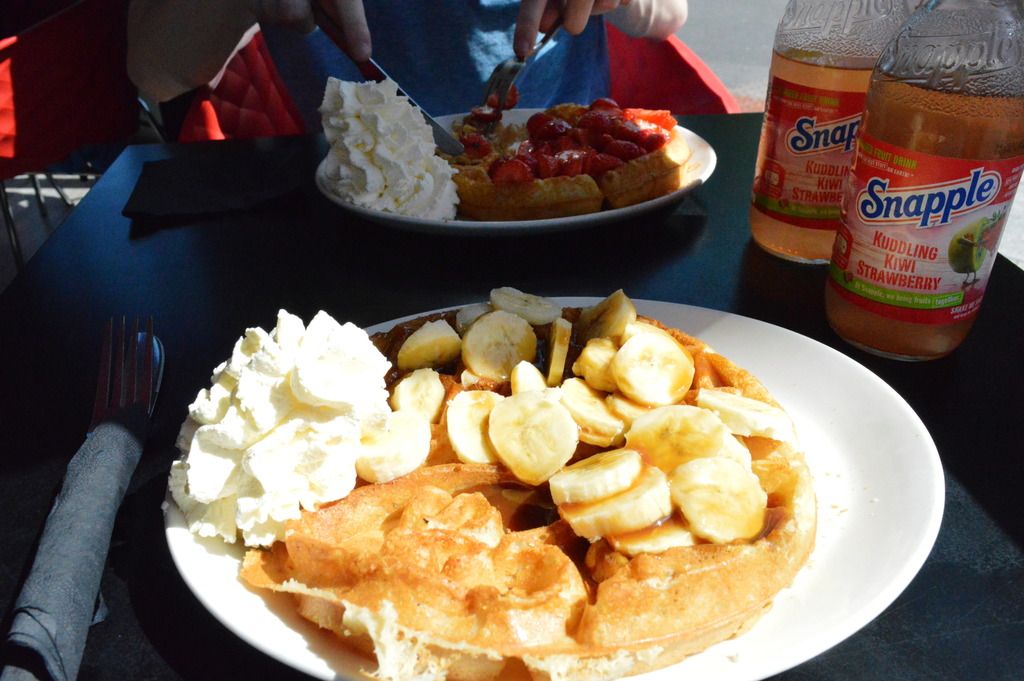 |Photographs & words by me|
My boyfriend and I celebrated our two year anniversary at the weekend and decided some much needed dessert was in order, to mark the occasion!
As the title of this post suggests - my boyfriend and I celebrated our two year anniversary by taking a trip out for some celebratory waffles! These weren't just any waffles though. We decided to take a trip to Southampton to visit Sprinkles Gelato, an ice cream parlour that sells a mouth watering selection of sundaes, shakes and waffles with every kind of ice cream you can possibly think of! I have been once before and indulged in a ferrero Rocher sundae, which was pretty much as big as my face. Needless to say, I didn't finish it. The same can be said for this trip, we both chose waffles and neither of us could face the last few mouthfuls. It's got nothing to do with the taste - they are the best waffles I have ever had - it's just that the portions are so big! Obviously that's a good thing though, as who wants a small portion of something so calorific and tasty? I settled on Banoffee and the boy had strawberry maple syrup all washed down with our new favourite drink, SNAPPLE! Have you ever tried Snapple before? I'm not exaggerating when I say that it is fantastic. It really is! It's an American product, though you can buy it in certain stores in the UK and it is so refreshing that we wanted to drink about 20 of them all at once. No joke, I have even been looking at wholesale Snapple online just to feed my craving! If you take a trip to Sprinkles, I recommend the Strawberry and Kiwi flavour.
After we had gorged ourselves silly on tasty sugary treats we decided to walk it off around the town park and came across a beautiful section filled with flowers. As you will have seen from my previous post, this provided a perfect space for some outfit pictures and my patient and lovely boyfriend agreed to take them for me. After all obligatory photographs were taken we just lounged in the sun for a while, making the most of it before the rain comes back. Overall it was a perfect day and I cannot believe that two years has already past with my lovable, freckly giant! I know it sounds soppy, sorry, but I can't imagine having a better day with anyone else. Cue the 'Awws'...