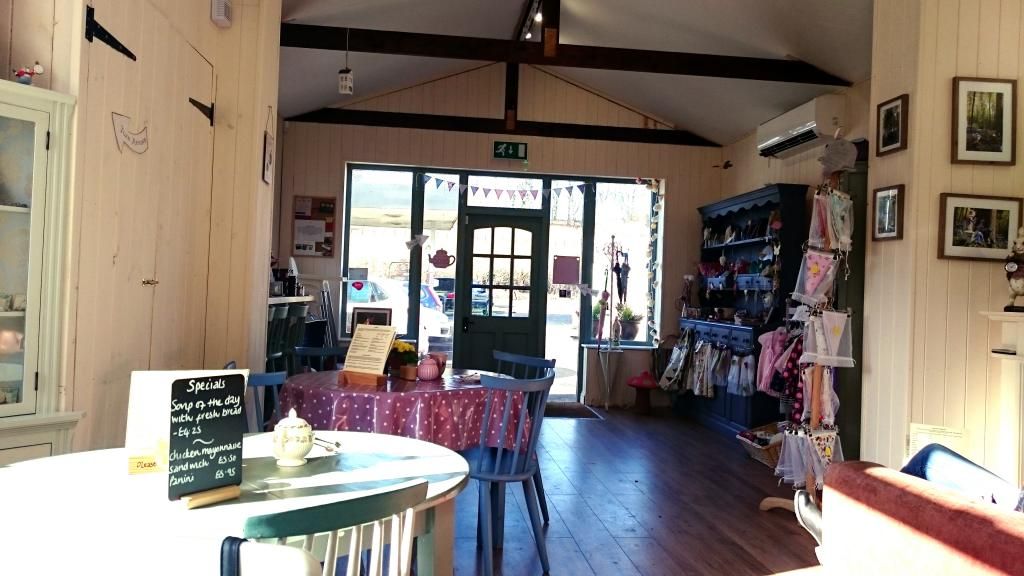 The weather was perfect in Hampshire over the weekend and Sunday gave us clear blue skies and some much needed sunshine. To celebrate the rarity of some good winter weather, my sister, her friend Jade and I decided to go out and have a lazy lunch at a little tea room nestled in the Northern Hants countryside village of Hurstbourne Tarrant called 'The Tea Cosy'. It's not that far a drive from our own town and on a lovely day like Sunday, the drive proves scenic and relaxing.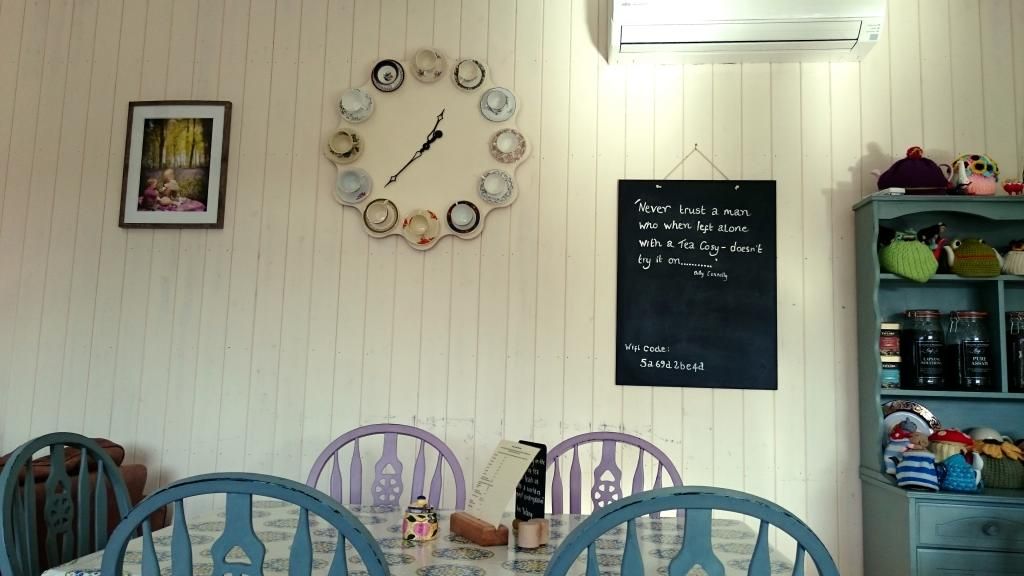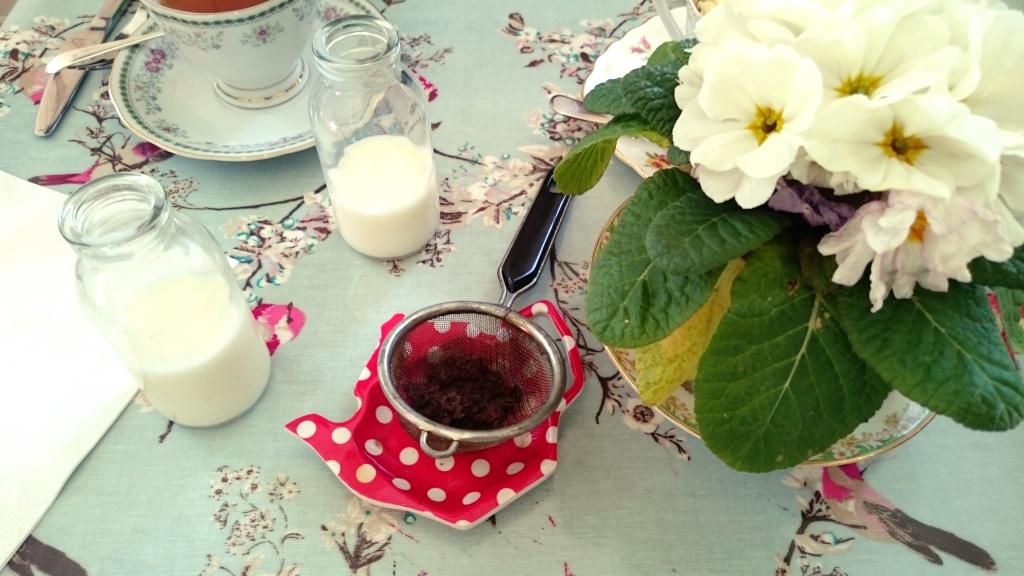 We got to the tea room at about 12:30 and there were a few people already curled up on sofas and perched on seats at tables, but it wasn't busy which meant we had a pick of the various tables inside. It's not a large place, probably the size of a large shed, but good interior planning has allowed it to appear very spacious and bright inside. The decoration is beautiful as well, taking some obvious inspiration from Alice in Wonderland with rabbits, tea cups, bunting and other colourful displays across the walls. Each table had a different patterned table cloth and a small plant, condiments and menus in the middle of the table. We chose our table and proceeded to look at the menu which included numerous teas from English Breakfast to Jasmine Green tea and the food consisted of all day breakfast treats and paninis/sandwiches. There was also a display of cakes by the till which included some beautiful cupcakes served inside an actual teacup!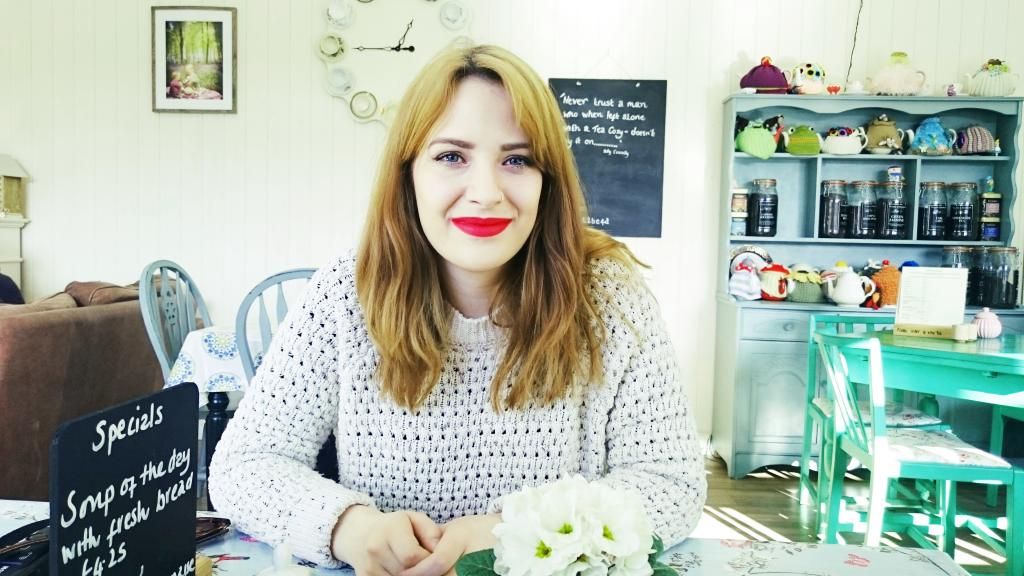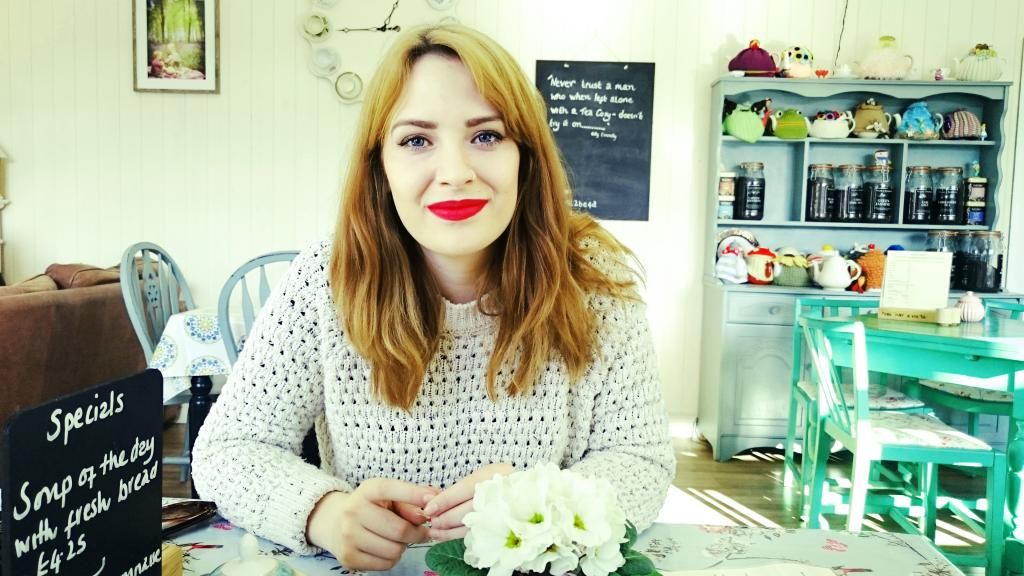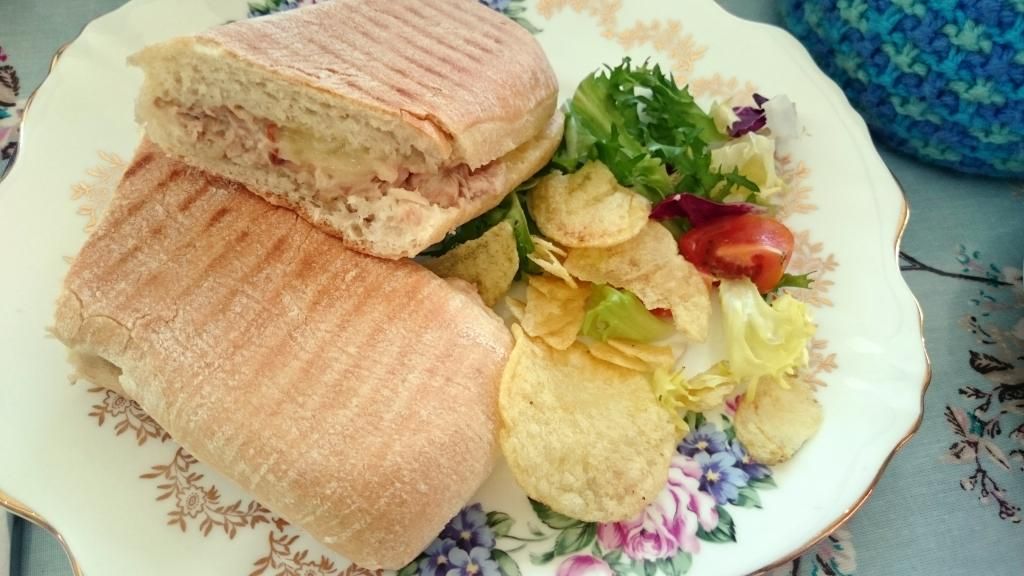 I decided on a pot of Assam tea for one and a Tuna, onion and cheese panini, we ordered at the till (they take card payments!) and whilst waiting for them to bring it over I decided to have a wander around. At the front entrance of the shop there is shelving and displays selling trinkets as well as crafty pieces by local textiles artists. You can also buy old school milk bottles, jewellery, tote bags, aprons and so much more. It was a nice touch and a lovely sentiment to give a space for local people to sell their wares.
The tea arrived rather promptly, each of us had a different teapot with a different knitted tea cosy to keep it warm. I was particularly impressed with the one my sister had which looked like a grassy hill with rabbits popping out of it, very cute! The tea was lovely, milk was served on the side in tiny milk bottles and sugar cubes were already served on the table in a china pot. The food came out soon after and it was delicious! They make it fresh inside a small kitchen with fresh ingredients and serve with a small side salad and a few plain crisps, my panini cost about £5.95 which I was more than happy to pay as the quality was beyond what I was expecting. We ate and chatted about our week among other things, relaxing and basking in the chilled out atmosphere. As we ate, more people came in filling the tea room with a hearty buzz. Clearly it is a popular place with locals, a valiant achievement considering it hasn't even been open a year yet, but I can certainly see why. We finished our visit off by having tea cup cake each and then went on our way.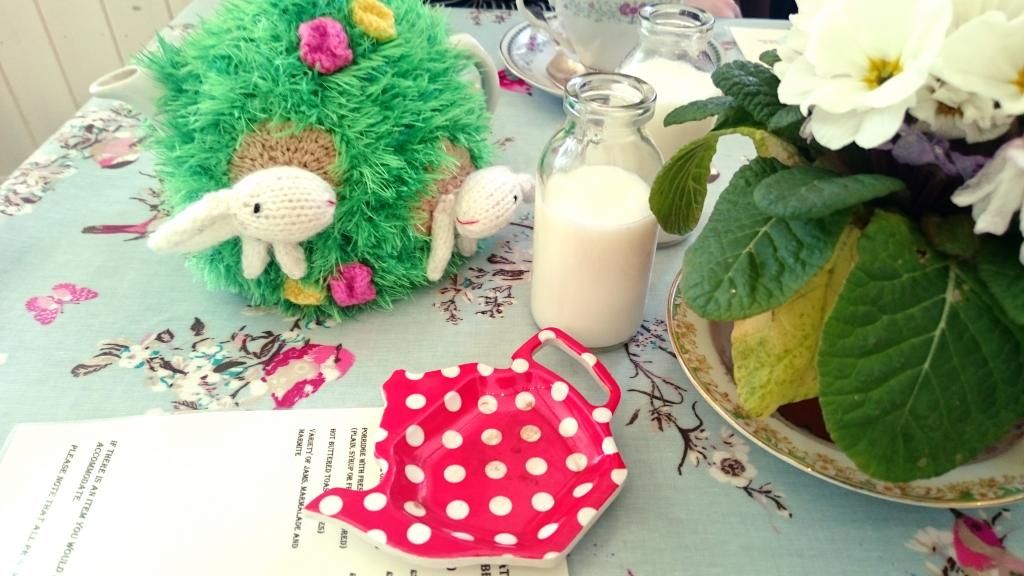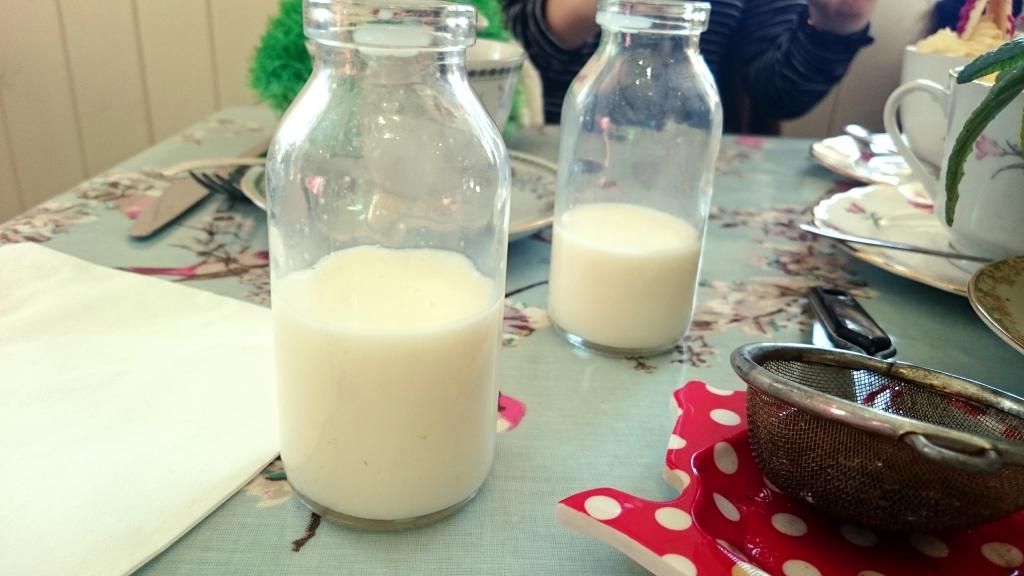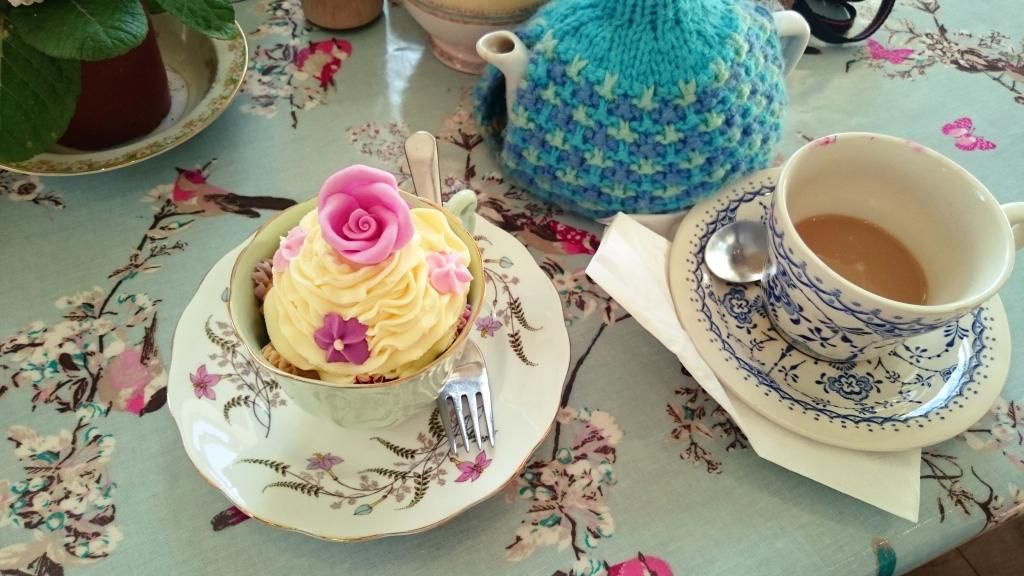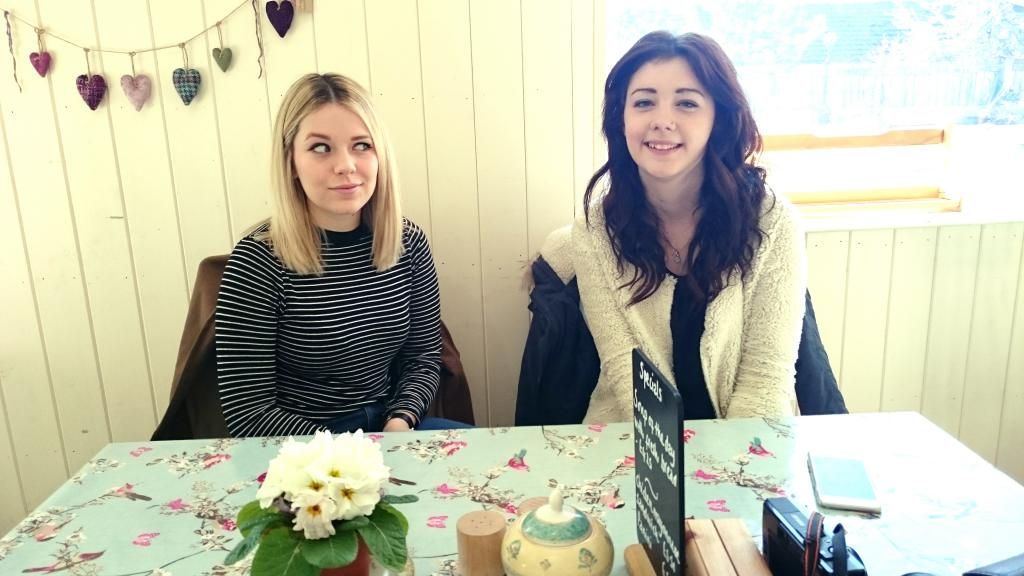 If you are visiting Hampshire anytime soon I would certainly suggest checking out this little gem, it isn't hard to find and it's perfect if you just want a little trip out on a lovely day. The staff are very friendly and provide high quality service and a welcoming atmosphere. A true slice of the British tea room culture and highly recommended! Please see their facebook page -
here
- and give them some love!