I should probably warn you that this is a resolution style post, however I'm not willing to call this list 'resolutions' and that is for the fact that I cannot promise myself I will get these things done, they are just simply things I'd like to achieve in the future. I'm not willing to make promises to myself and then let myself down, if something takes more than this year to fulfill it then I know I'll be comfortable with that. I find that people are very much stuck on this goal of 'it will all happen for me this year' and it's a beautiful and motivating idea, but when it doesn't, you start to see people crack. Why not tell yourself it's going to start to happen for you this year? That way you can work towards something big, even if it takes you awhile to get there. You're only young and you have many years to achieve those things you always try to compact into one year, just remember these old chestnuts - Patience is a virtue and good things come to those who wait.
1. Start getting some more tattoos.
I got my first when I was 18 and have subsequently been saying every year since that I will get another and this hasn't happened yet! It's a mixture of cost and time, which seem to be the two biggest things that everything comes down to. I am the type of person to think long and hard about tattoos as I want them to reflect me and experiences in my life - almost like a collection of charms on a bracelet, turned into artwork in which my skin is the canvas. I have had a lot of ideas of what I want over the past 4 years and a few of them have stuck with me, so I feel like now is the time to get them.
2. I would like to travel more.
The biggest idea this year is to travel to New York with my sister in September. Huge, I know! We've wanted to go for a long time but never really thought about actually booking a holiday and going, but now we've started an itch that we just can't scratch and it's going to get worse until we get on that plane and go to that wonderful city! I really do want to go this year but thankfully however it is something that the longer I wait then the more money I can save for shopping and so if it does end up being 2016 instead then it won't be all bad. That's not all I have on the agenda though, I have also been looking into finally visiting Copenhagen and Stockholm this year as well as possibly going on a bit of relaxing beach holiday, god knows I need it!
3. I want to start writing more on this blog.
When I say writing, I mean writing real posts, not just reviews or shopping posts. I am not a bad writer and I really enjoyed writing throughout my education and to not really use those skills would be a massive shame. I find that a lot of blogs these days are started up and whilst they have potential, there is no real content within them - they just follow the same lines as a thousand more. I'm worried my blog has started to head in that direction and it is not what I had in mind for it at all. So this year I am going to move back to my original concept of blogging and write meaty posts with interesting subject matter - still fashion/lifestyle based of course!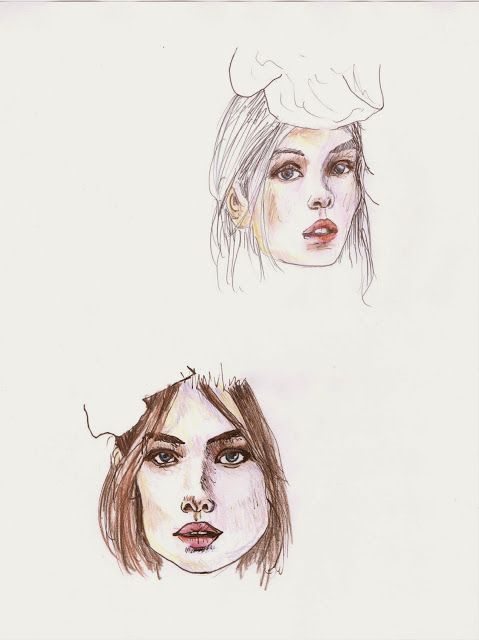 4. Go back to illustration.
I love illustration and if you saw any of my original posts - here - or even my instagram, I did start posting it but I lost my way a bit. The job that I do is quite tiring as I work different shifts and I am sat in front of a computer all day long looking at information. It may not sound that bad, but try it for a week and tell me your eyes are not screaming at you! I couldn't even read the arrival boards in Gatwick yesterday when I was picking up my sister after she had flown home from Dublin. That is bad. Anyway, I lost motivation for my drawings and I used to love getting all my art supplies out and sitting down to create something, sometimes it took me hours to complete one A4 drawing and sometimes it was just a quick sketch. I want to get back that sense of achievement and pride from a finished piece and whilst the weather is cold and Christmas has sucked up all my money I think it might be worth starting on some new projects.
5. Start looking forward in a fashion based career.
This blog started because I dropped out of university, in which I was doing Fashion Design. It's not that I hate design or that I dislike fashion but I just couldn't deal with many aspects of the course and some things within my personal life also got in the way. Before I left, I was very much on the pathway to designing lingerie as I found it exciting and extremely interesting. This is something that I would definitely want to move back to, even if it is starting in lingerie and expanding into womenswear in the future, all I need to do is start saving and maybe even making. I have the perfect platform for advertising myself and yet I only used it a few times last year when I posted the wedding dress I made - here - and the jacket earlier in the year - here. The idea this year is to start showing off what I can do via my blog.
6. Start to really think about moving out.
This is one thing that I would really want to happen for me this year, but due to a number of contributing factors it may not. My boyfriend and I have been talking about it for quite awhile as we both agree we need a space to call 'ours' and seeing as we are both turning 23 this year it is high time we put those plans into action. I'm a bit of a home snob though, I like looking at pretty houses and interiors on numerous blogs and on the internet and I get a bit carried away with ideas of how I would want my home to look. I am very tempted to move back to Bath for this very reason - just because it is so pretty!
I'm sure there are a hundred other things that I could think of and write about for you, but I guess these are the main ones that I have had swirling around in my head since I started to realise that there was a new year ahead and I had so much I still wanted to achieve. Once again, I'm not looking to be able to do all of this in a year, but I at least want to start somewhere and to have it written down for me to go back to and really begin working on, is the first steps. I'm sure many of you have resolutions or plans and I can't stress enough that things do take time, but if your planning to work hard to get to where you want his year then good luck! And if you do achieve those personal goals by the time 2016 pokes it's head around the corner, then congratulations you will have earned it!
In the meantime why not share your 2015 aspirations below?