Before
I recently decided that I needed a change in my appearance and so I took a trip to Toni & Guy and had about 5 inches cut off my hair. Drastic? Definitely. As much as I loved my long tresses I kept telling myself that maybe a cut would do it some good. I had also seen countless articles about celebrities changing their hair as well as other bloggers and they looked great! Most recently Lauren Conrad has styled her hair into a chic messy shoulder length bob, which I must say I love. This set off a bit of an idea in me to reinvent myself and have the confidence to change my look as well. Not to mention the ends of my hair were splitting and everyone knows that a good cut will take it back to a healthy condition and help it to grow faster. It sounds silly but it was a big decision and when I finally did it I just walked straight into my appointment and didn't look back. I wasn't ready to sit there and think about it (and most likely back out) and so I told my hairdresser to just go for it and watched as my beloved hair fell to the floor. It's been just over a week now and there a few things I thought I would share about the experience, in case anyone else out there was feeling a bit indecisive -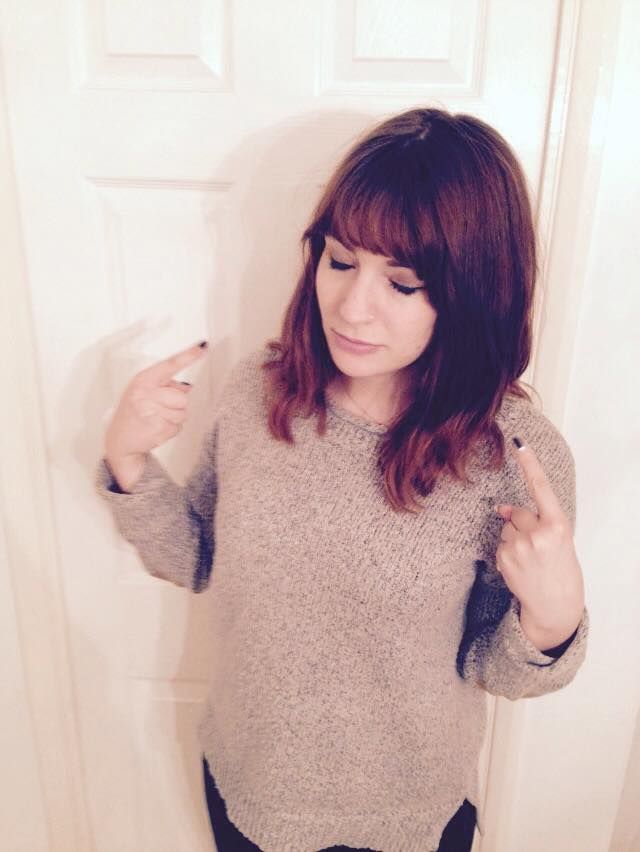 After
It's definitely nerve-racking.
No matter what anyone else says - hair is not 'just hair'. Any girl that has ever dreamt of being a real-life Rapunzel will understand that your hair is a big deal, a real big deal! Firstly you need to feel comfortable and confident with the hairstyle you choose, because it may 'just grow back' but depending on how drastically you change it, that could take years and you've probably already spent years growing it. You also want to make sure that your haircut portrays a true representation of you and your style, you don't want to be left with something that makes you feel uncomfortable or reaching for a hat every time you leave the house! It's definitely worth having a brief moment to think about it just in case you do hate it. I remember quite vividly the first time my mother let me choose my own hairstyle and I decided to cut my beautiful long hair into a bob. She tried to gently reason with me that I may not like it and that once the hair is gone that is it- I would have to wait for it to grow. Needless to say I didn't listen and once it was done I cried for a good hour until I caused myself a migraine and threw up. I was only about 7/8 then and I didn't realise how attached I would be to my hair. Thankfully I am older and wiser now but that didn't stop me from digging up that memory and really questioning my next steps, obviously it didn't stop me from going ahead with it, but the nerves were still there and rightly so.
It took some getting used to at first.
I woke up the next morning in my thank-god-it's-Friday-but-I-still-have-work daze, unfortunately forgetting it was gone and went to brush my hair only to remember and get a little freaked out. I'm used to playing with my hair due to it's length and throughout the day I kept going for it and sort of awkwardly stroking my boob instead, which isn't the best thing to do when your in a professional work environment... I now have it ingrained in my mind that I need to aim for my shoulder and thankfully I have kept the boob stroking at bay! Another thing that i'm sure girls with thick hair will relate to is the change in weight, my head feels lighter without all that extra hair and it is a good feeling! Not to mention it dries faster! Still not fast enough but it's an improvement!
Everybody loved, it including me.
It's always nice to get a compliment when you try out something new, but I couldn't have predicted the overwhelmingly warm response I received from my family, friends and co-workers. Everybody was quick to tell me how much they loved it and my friends at work where pleased that I had taken their advice - considering they had said to me 'I don't think you'll do it'. Oh how wrong they were! Positivity from your peers is obviously important when you change your look and it definitely helped me to really start to love my new hairstyle, even if I was still taking it all in myself.
I had a new found confidence.
I weirdly felt a touch rebellious at first, like I had taken the scissors and chopped it all off myself, which was probably due to my over thinking of it before. Aside from that as soon as I started to realise that I had made a good decision I found that the confidence started creeping in. I feel like I stand out more and I feel taller without all that hair weighing me down. I know it seems a little odd that a haircut can have this much impact on a person but I think everyone has that little buzz of happiness when they walk out of the hairdressers with a sassy new do. A lot of people have also asked me why I decided I needed a change and it's not that anything has happened, I think I just felt like life was a little mundane and tedious and I needed to shake it up a little bit. I used to love playing with my style and trying out different things but I've more recently been a bit more militant with my hair, so this was an exciting new way to express myself and no one was expecting it. I can't say that everyone would have the same experience, you might be just like me 8 year old self and cry for an hour until you're sick or you might be like my 22 year old self and rock the change. Your hair is a part of you and it's a big decision whether it seems like it or not, so maybe have a little think about it first or just take those steps to a new you!
Has anyone else recently had a change? Why don't you share below!