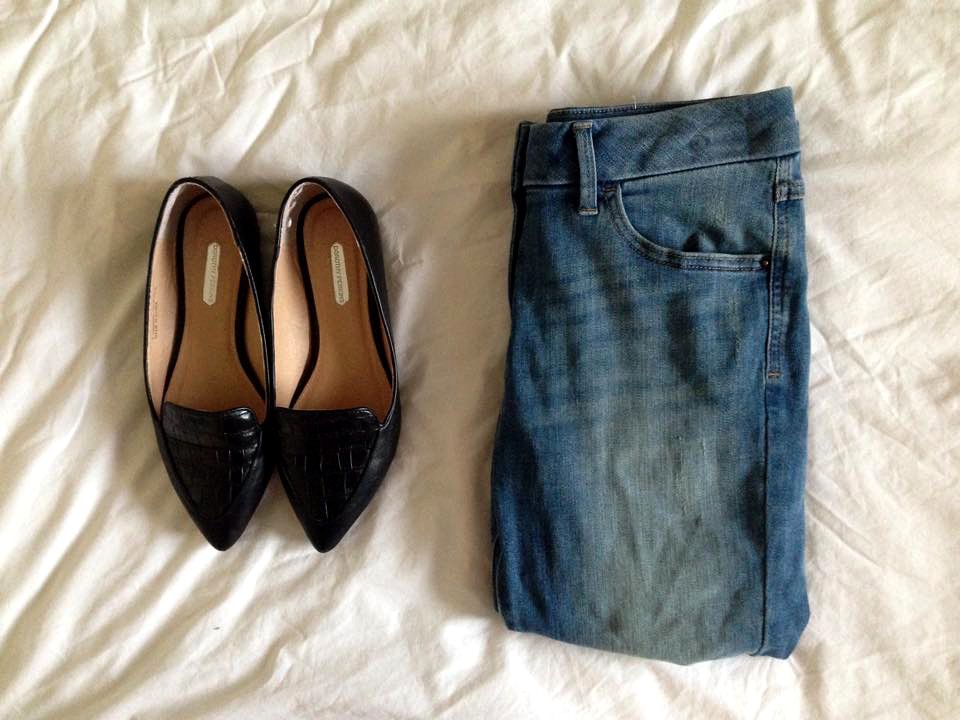 I'm sure many will agree with me when I say that there are key basic garments that pin your wardrobe and your outfits together and everybody has their favourites, whether they realise it or not. I'm talking about your go-to t shirts, jeans and shoes, the ones that are aesthetically plain but actually build the foundation for what could potentially be a fantastically put together outfit. Obviously by now you will be aware that I greatly favour black skinny jeans, mostly because you can match anything with them and as black emphasises almost all colours and styles. I also find that they flatter your legs and can pretty much be worked into any wardrobe.
So for me, hands down black skinnies will always be my key item in my wardrobe, however I am always up for evolving my style and I certainly used that mindset this weekend. I often wonder if everyone is like me when it comes to jeans in that they have to tick a lot of boxes or else you just aren't buying them! This is the constant struggle that I seem go through with blue jeans, even more so than black.This is because one of the major problems with blue jeans is the abundance of different shades and washes they come in and at least with black jeans you know you are just looking for, well, black. I find that not all shades of blue suit me nor can I work them into an outfit and feel confident about it and that can be very frustrating. I also like to make sure that the waist line isn't too low rise and sits comfortably on my hips without the zips or button digging in. It sounds fussy and I probably sound crazy right now but my size sits somewhere between a UK size 8 and 10 and everything is either too small or too big for me.
Buy them here.
When I came across these jeggings in Marks and Spencer at the weekend I was thrilled, partly due to the fact I never shop in there and partly because the colour and cut was perfect. The colour is just the right shade of blue that I can not only pair it with other colours, but it will also work well with black which I often find difficult. Though it is marketed as a jegging and it is in fact a stretchier material than normal denim it is still thick and soft and hugs your curves in a wonderfully flattering manner. I've already planned countless outfits around them and just between you and me, I was so excited that I put them on when I got home! You are probably thinking that they are just jeans but think about it - In your wardrobe or drawers you have that perfect pair of jeans that you know you will feel comfortable and stylish in, the ones that make you exude confidence and never let you down. This will undoubtedly help me to branch out from my somewhat narrow minded and monochromatic dress sense and slowly force me into venturing down new avenues, which can only be good.
Another basic which I have been adding into my collection is ballet flats, it all started with a pale pink suede pair that I picked up in Primark for a notable £6 in the sale and I fell in love. They are stylish and easy to wear, though people often think i'm bare foot from far away, but they opened my mind to wearing them again seeing as I had strayed away for so many years. I then started looking at various takes on the flat shoe online and it wasn't till this weekend that I invested in some new black ones that I also got in a sale but this time in Dorothy Perkins for £12. I had been after some smart black flats that I could wear smart and casually and lucky for me, these were the last ones on the rail. They also feature the much coveted embossed crocodile pattern that I have seen countless times all over the high street at the moment, it adds a touch of designer to any pair of shoes. The nice thing about ballet flats is that they soften an outfit and they are very easy to wear with just about anything. Their only downfall however is that they do not really work well in rain and England definitely isn't running out of rain anytime soon. These shoes have also been on a test run over the weekend and it's fair to say - I love them!
Obviously there are a lot of other garments that I always fall back on, for instance grey t-shirts or black boots and all of these have a special place in my wardrobe. After all without these items fashion wouldn't flow, it would become a bit of an eccentric jumble sale of clashing garments and overdressed people. We need these basics to show off our statement accessories and wear those patterned trousers that we really love or even just tone it down and relax for the day. Who can deny a good old white t-shirt and jeans combo? I can never deny myself the indulgence of buying some good old plain clothes and neither should you, why not tell me your must haves below?