The people that know me and those that see me day to day in the office will be able to tell you that I've started to develop a bit of an attraction to patterned trousers, which will only have become noticeably apparent due to the fact that I tend to favour mostly black leg wear. I cannot fault an outfit complimented by a good pair of black skinny jeans nor a dress and 40 denier pair of tights, nearly everything goes well with black! So it came as a bit of a shock when I found myself floating towards rails of kooky patterns and tailored checks and more so when I actually purchased a pair - I settled on a pair of Primark trousers in white with a rather elegant navy leaf and magenta flower pattern. I found the courage to wear them to work the following week and needless to say, everyone noticed. I got a pretty good reaction out of people though which lead me to build up the courage to try some more and two days later I donned a pair of tailored trousers in Houndstooth check.
I think a lot of the difficulty in wearing patterned trousers is combining them with a top or even the right jacket, in my case I went with black on both occasions as I knew that it would work. Like I said - you can't fault black! I've seen some really good outfits on various websites however where people have styled patterns in a number of ways, I just don't think I'm brave enough nor bold enough to test it out yet. I like to think of my style as more subdued and relaxed, which is probably why I veer more towards monochromatic garments and oversized tops with tailored or skinny bottoms. With this in mind I have tended to look more at one type of pattern which has really caught my eye, mostly because it is in every high street shop at the moment. That pattern is the check.
Checked trousers have survived years and years of fashion and cultural evolution. For example tartan check is widely associated with Scottish history in which the pattern came in various colours and designs associated with different clans. It was then adopted by the punk scene and Vivienne Westwood largely uses it in her collections. You can wear it casual or dressed up, day or night and it still looks good. In conversation with a friend at work we both discussed the need for a pair of tartan trousers, I recall searching online a few months ago and yet I couldn't find a pair and she searched more recently as well yet to no avail. That is when I decided I would do some hardcore online shopping and find some great substitutes which would still have that punky yet smart appearance. I have included some of my favourite findings below.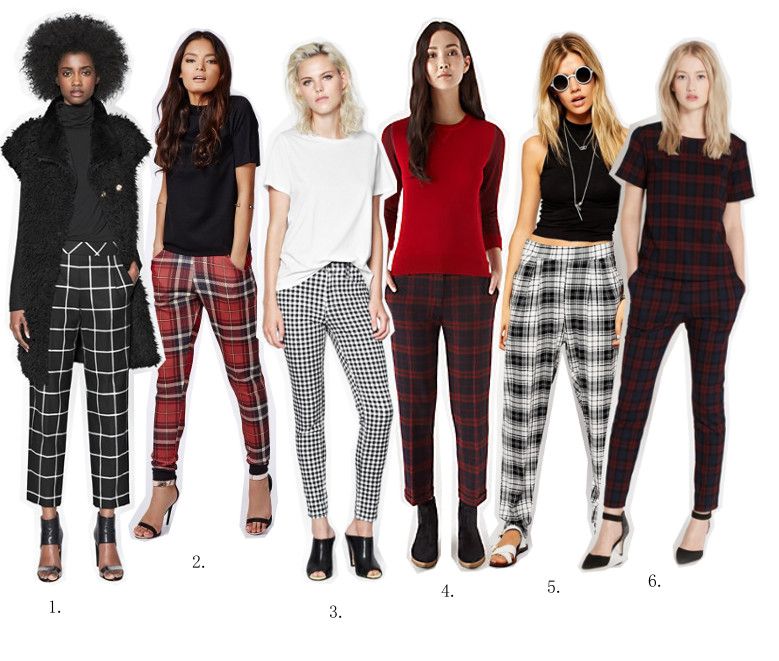 1. French Connection - CIAO CHECKED TROUSERS £79.00 | 2. Missguided - ALLY TARTAN PRINT SCUBA JOGGERS £14.99 | 3. French Connection - SHRIMPY CHECK SKINNY JEANS £75.00 | 4. John Lewis - JIGSAW CHECK TROUSERS £129.00 | 5. Asos - TARTAN CHECK PEG TROUSER £22.00 | 6. Oasis - CLARET CHECK TROUSER £40.00
If you are reading this and have any more suggestions, why not leave a comment?