It's been awhile, sorry.
The good news however is that my absence has not been in vain for I have been working on a pretty major project that took up a heck of a lot of my free time... I believe I previously mentioned the wedding dress?
My darling Aunt was kind enough to bestow upon me the incredible, if not daunting, honor of creating her dream dress plus two bridesmaid dresses to accompany it. As previously stated this was an amazing opportunity, however it was one which came with a lot of responsibility and was fairly challenging at times. I spent a lot of evening after work as well as weekends and booked holiday to create the dresses. First of all we had consultations to work out what exactly my aunt was looking for, starting off with Edith Head's infamous dress worn by Grace Kelly in Rear Window and moving on to more classical 1950's prom styles.
We even went to dress shops to try on different styles so that we knew what would look good. Just a few consultations were needed (a Costa always in hand) and we had finally come up with a design that we were happy with. I will need to post the sketch later due to my lack of a scanner at the moment but it needed to combine the 1950's full skirt, ivory satin, lace and a touch of navy. For the bridesmaids we had found the perfect style to compliment the dress which was an a line empire dress with a mesh overlay, I agreed to recreate this dress though we ended up with a crepe back satin dress and chiffon overlay.
My friend and previous housemate at university Rachel Dapré - helped with the construction of the patterns and garments. We went through meters of calico and toiles and endless hours figuring out how to make the dresses sit perfectly (we had no mannequins). In the end I totaled up countless hours of labor and an all nighter just before the wedding to complete the finished looks. Making dresses from scratch is no easy feat but I have to admit I am impressed with what our dedication has produced. The wedding dress comprises of a sating prom with sweetheart neckline and a line skirt. There is a silk overlay attached to the skirt with appliqued embellished lace. An embellished lace jacket lies over the top fastened with a line of rouleau loops and pearls on the back. I have also hand sewn navy beading to the lace jacket. You can see the finished dresses below on the day of the wedding -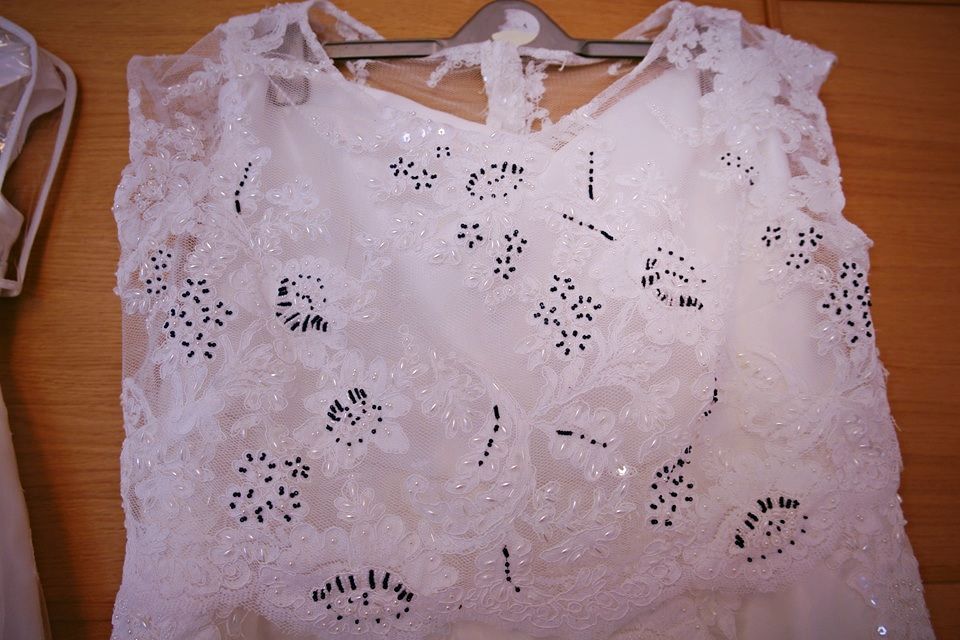 Hand stitched navy beading.
Image courtesy of Rachel Dapré | Edited by me.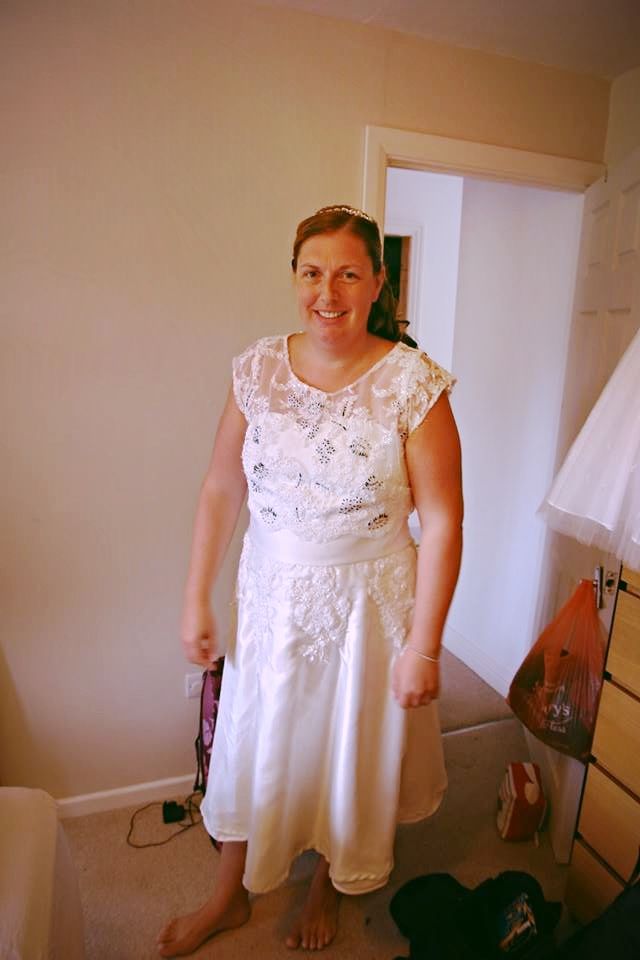 Image courtesy of Rachel Dapré | Edited by me.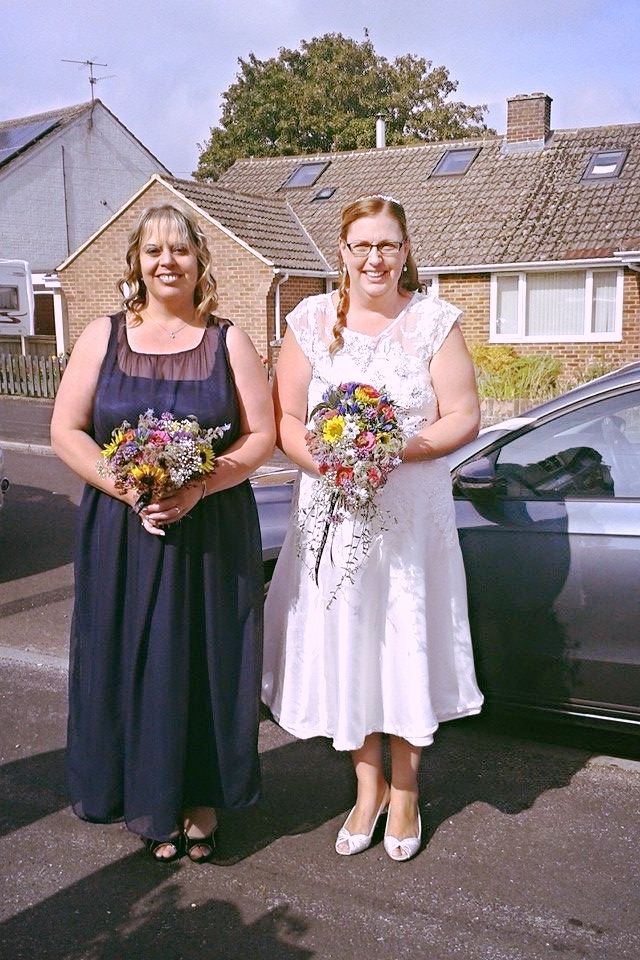 The bride and one of her darling bridesmaids.
Image courtesy of Anna Carpenter | Edited by me.
I don't recommend making wedding dresses for the faint hearted, the level of detail and the limited choice of fabrics (unless you've got a large budget!) can become quite stressful, but it is a magnificent sight to see when all is sewn together and fitting snugly on the bride. Not to mention the dramatic ego boost when you are receiving extremely positive comments from wedding guests on how lovely the dress looks. However, nothing is greater than when the bride sees herself in her dress and her face glows and she smile and you know that it is a job well done.